Shaoxing Make Dream Reality Import And Export Co.,Ltd,established in September 2008, is an import and export company specializing in textiles for women's clothing. "Make Dreams Reality" in English means turning dreams into reality and in Chinese it means acquiring good luck when beautiful and nice things gather together.
Through a close network with many textile and dying factories, our company has successfully completed many local and overseas orders and won great positive comments of many foreign companies and local garment companies.
We have sourcing strengths in woven and knit fabric, customized woven products, and deep processed products. We have strict procedures and high quality standards. We have careful and serious minded merchandisers to follow up with client orders. We do our best with our heart. We can't guarantee that the price of our products is the lowest in the market, but we can guarantee that our products provide high value for money.
Our slogan is "Work hard sincerely and pragmatically for win-win business'. We work together with our clients to create a mutually beneficial future.We insist on: WE WILL NEVER SELL OUT FOR SHORT-TERM INTERESTS OF THE FUTURE!(Got from Ernst Werner von Siemens).

China Textile City Market
---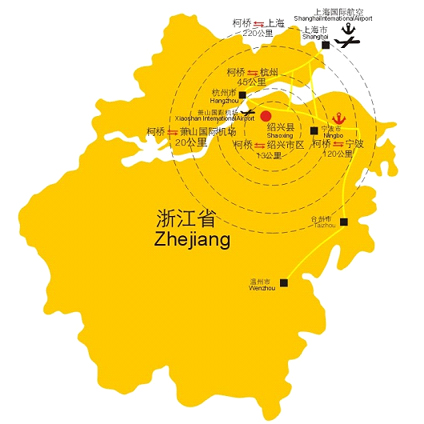 Shaoxing Keqiao is located in the southern wing of Yangtze River Delta, east of Ningbo, west of Hangzhou, the ancient textile county, the textile industry accounted for two-thirds of the county's total economic output, with the nearly ten thousand of all kinds of textile enterprises, the basic formfrom the PTA, chemical fiber, weaving, dyeing, garment and textile complete chain of textile industry, printing and dyeing production capacity accounted for one-third of the country, is one of the country's most important textile industry cluster. China Textile City in Shaoxing County Keqiao, founded in the early 1980s, has formed a "traditional trading in the south, Central International Trade Zone, the North Market Innovation Zone, west of raw materials trading and eastern parts of warehousing and logistics areas five market area, market area of 3.26 million square meters, 20,000 registered business households, representative offices of the Permanent Mission of the country (territory) of 1000, the Permanent foreign 5,000 people, the 2010 market group turnover of 79.37 billion yuan, the export of the market $ 2.11 billion national textile wholesale market in the first 21 consecutive years, the country's largest, complete and perfect operating varieties of the largest textile distribution center, is the world's largest professional textile market. the world each year about one-quarter fabric in this transaction, and nearly half of the textile enterprises to establish production and marketing relationship in recent years, the textile City, the first implementation of intellectual property protection, conduct of modern financial services guide technological innovation, brand building, fashion to create and cultivate a new trading company, market continues to boom and stable development to accelerate the international textile manufacturing center, trade center and the creative center, Shaoxing county government decided to build "China Textile City Market, plans to invest 20 billion yuan to build the world's largest textile and electronic business platform, the physical market and the invisible market development, further promote the upgrade of the textile industry and textile city to enhance the development.